THURSDAY MEN'S LEAGUE
A Big THANK YOU to our Men's League for another Great Season!!!
This Season's Top Winners:
1st Mikey K
2nd Ray
3rd Craig
4th Jim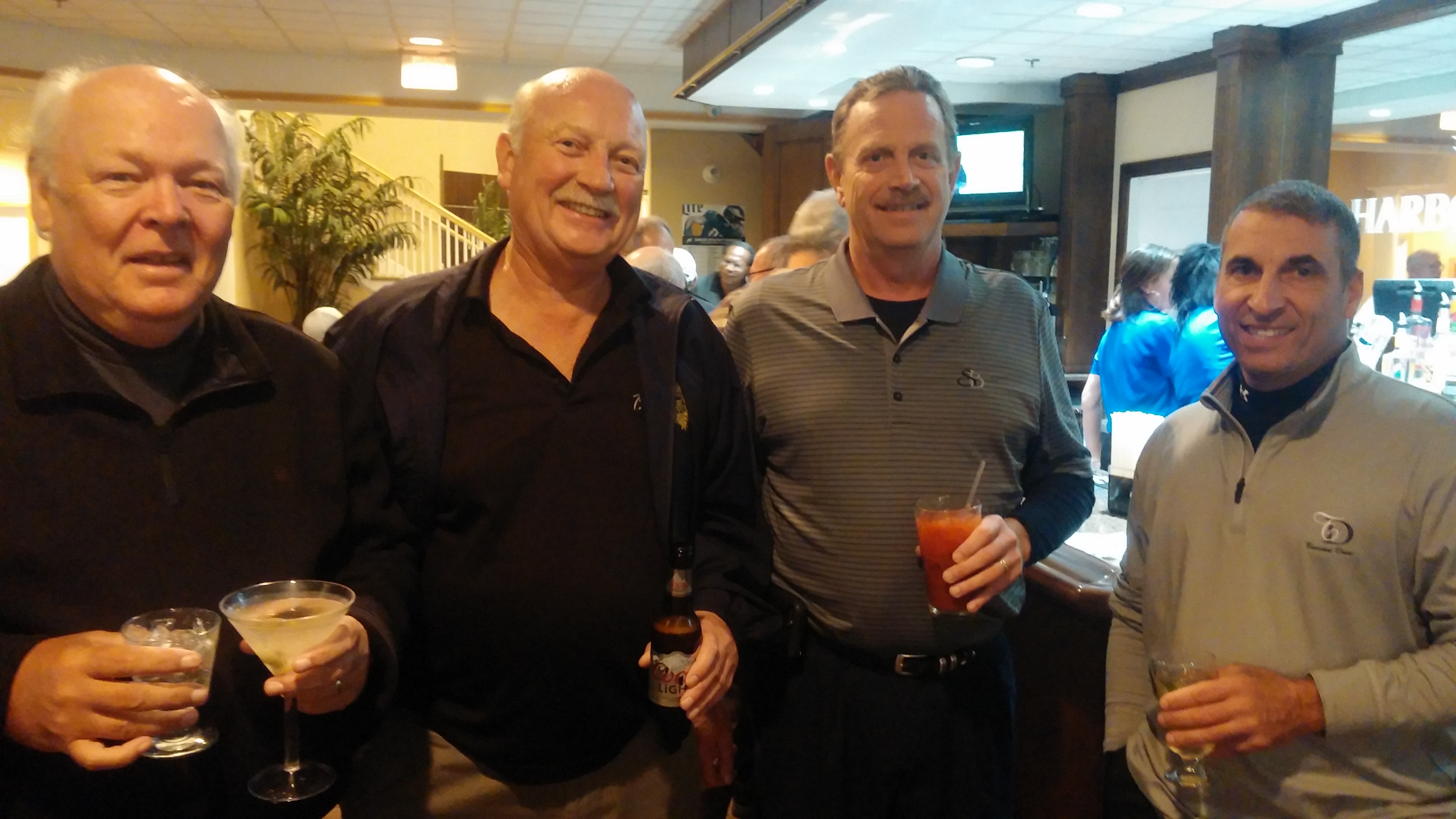 A SPECIAL CONGRATULATIONS GOES OUT TO MIKEY KUNIGONIS FOR HIS HOLE-IN-ONE ON THE 185 YARD (YES) 11th HOLE.
Final Day Out - 10/27/16 Standings:
1st Jack Chebra
2nd Newell McCalmont
3rd Tony Cannata
CTP Jim Ward (2), Joe Saccavino, MIKE KUNIGONIS #11 HOLE IN ONE!!
5 skins: Kunigonis, Alleva, McCalmont, Saccavino & Parmalee
| | | | | | | |
| --- | --- | --- | --- | --- | --- | --- |
| Name | Gross | Out | In | Total | Place | Points |
| Handicap | HDCP | | | | | |
| Alleva | 11 | 44 | 39 | 83 | | |
| Net | 9 | 39 | 35 | 74 | 5th | 4 |
| Cannata | 20 | 46 | 43 | 89 | | |
| Net | 16 | 38 | 35 | 73 | 3rd | 6 |
| Chebra | 24 | 47 | 44 | 91 | | |
| Net | 19 | 37 | 35 | 72 | 1st | 8 |
| Dixon | 19 | 47 | 55 | 102 | | |
| Net | 15 | 39 | 48 | 87 | | |
| Gradman | 17 | 62 | 43 | 105 | | |
| Net | 14 | 55 | 36 | 91 | | |
| Gurwicz | 31 | 63 | 50 | 113 | | |
| Net | 25 | 50 | 38 | 88 | | |
| Hendrix | 15 | 42 | 46 | 88 | | |
| Net | 12 | 36 | 40 | 76 | 7th | 2 |
| Jones, S | 27 | 50 | 51 | 101 | | |
| Net | 22 | 39 | 40 | 79 | | |
| Kunigonis | 19 | 44 | 44 | 88 | | |
| Net | 15 | 36 | 37 | 73 | 4th | 5 |
| Levin | 31 | 65 | 51 | 116 | | |
| Net | 25 | 52 | 39 | 91 | | |
| McCalmont | 24 | 44 | 48 | 92 | | |
| Net | 19 | 34 | 39 | 73 | 2nd | 7 |
| Meyers | 32 | 68 | 56 | 124 | | |
| Net | 26 | 55 | 43 | 98 | | |
| Parmalee | 38 | 50 | 58 | 108 | | |
| Net | 30 | 35 | 43 | 78 | | |
| Saccavino | 35 | 50 | 53 | 103 | | |
| Net | 28 | 36 | 39 | 75 | 6th | 3 |
| Sledge | 15 | 46 | 44 | 90 | | |
| Net | 12 | 40 | 38 | 78 | | |
| Ward | 11 | 46 | 39 | 85 | | |
| Net | 9 | 41 | 35 | 76 | 8th | 1 |
HP Men's League FINAL Point Standings:
| | |
| --- | --- |
| Player | Total Pts |
| Kunigonis | 105 |
| Hendrix | 100 |
| Alleva | 94 |
| Ward | 83 |
| McCalmont | 74 |
| Dixon | 66 |
| Sledge | 66 |
| Cannata | 65 |
| Olson | 61 |
| Traa | 52 |
| Weiland | 39 |
| Chebra | 38 |
| Schaffer | 33 |
| Neitzel | 31 |
| Karanik | 27 |
| Parmalee | 24 |
| Gurwicz | 23 |
| Evans | 22 |
| Levin | 22 |
| Murphy | 22 |
| Freaney | 21 |
| Jones, S | 18 |
| Saccavino | 16 |
| Multhaup | 5 |
| Gradman | 2 |
| Cliff | 1 |
| Meyers | 0 |
| Scanlon | 0 |